(330) 673-1448 OR WWW.KENTLANESBOWLING.COM
Check out our family friendly deals to make your child's birthday their best one yet! Our seasoned birthday staff is dedicated to making sure everyone has the most enjoyable time possible. So make a reservation with us and let us take care of everything else.  
YOU BRING THE CAKE, THE KIDS, AND THE ICE CREAM,
WE WILL PROVIDE THE REST!!!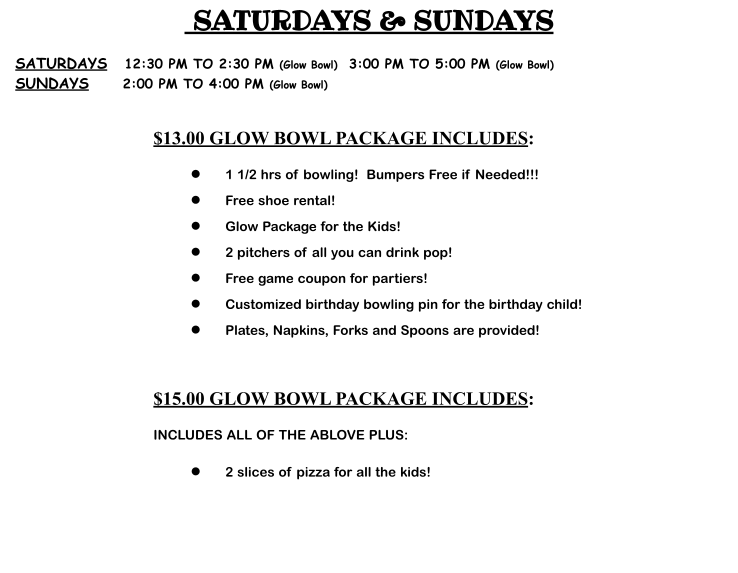 All the Fun of Bowling in the Dark, During The Day!  Music / Disco Lights / Black Lights With Glow in the Dark packages for the Kids
Frequently Asked Questions
Q: I've booked a party, what time should I be there?
A: Typically 15 minutes before your party's start time is a good time. We'll have the lanes ready to go as soon as we can get the area cleaned up after any previous activities or parties that were on the lanes prior to your party.
Q: I'm going to have a lot parents and other guests other than the children, how can I feed or entertain them?
A: Well we have plenty of options for this situation.  If they want to bowl, you can either pay per game for them (which is typically $4.00  per game per person and $3 per pair of shoes) or you can pay the same as you do for the children and they can enjoy the same benefits that the children do.  If they don't want to bowl and you just want to provide food that is fine too.  Although we do not allow customers to bring in outside food, we are more than happy to provide an extra sheet pizza for market price. We can also provide extra slices for $1 a piece (while supplies last.)  If you wish to order extra pizza, please let us know ahead of time.  We also have a full menu that we can prepare for you on the day of the party that includes burgers, dogs, chicken, fried foods and snacks!
Q: The children get pop provided to them, how can I get drinks for the adults?
A: We do provide all children in the package free pop, we bring out two pitchers full of pop and keep them refilled the whole time.  New to our Birthday Parties is the all the pop you can drink adult package.  For only $15, you can add two more pitchers and everyone can drink unlimited pop throughout the party!
Q: No outside food?? Can I bring in a cake?
A: Absolutely!  Any kind of dessert food like cakes, cupcakes, cookies, ice cream or baked goods can be brought in for the children.
Q: I estimated a certain number of kids but I may have more, or less than I originally said, what do I do?  
A: Not a problem.  We call to confirm your party sometime during the week before your party and we will try to confirm again the number to get a better idea of how much food to have ready.  But we only ask you to pay for the number of kids that come to the party.
Q: Is gratuity included or required?
A: Gratuity is completely optional.  While any tip you leave is greatly appreciated, it is not expected.   Our staff strives to give you the best birthday party experience possible with no hassle. It's our job and we enjoy a good party as much as you do so any tip is purely a bonus.
Q: I'm kind of stressed out, can you help?
A: No doubt about it.  We've been hosting parties for a very long time, and our party day staff is very experienced.  We would be more than happy to assist you anytime before, during, or after the party.  Please call if you have any questions regarding the party in the days before your party, or feel free to ask for any assistance you may need during your party.
Q: How does the party work?  What is the general itinerary?
A: When you first arrive for your party, one of our staff members will go over our order sheet to explain how to order the food for the kids and any extra food you may need.  Then as the kids come in, they can get their rental bowling shoes from the front desk, and the lanes will be turned on at the time of your party, and will automatically shut off 1.5  hours later.  Approximately ½  hour into the party, we will serve the food.   We will keep your pitchers of soda filled the entire time of the party.  Approximately one half hour before the party is over, we will do the presentation of the bowling pin and play the Kent Lanes Birthday Song for all the birthday children.  After the lanes shut off, your party will have the area behind the lanes for one half hour to either open presents, eat the cake, or take pictures.  (For MoonRock parties this is when the house lights will come back on for better picture taking opportunities.)